TABLE OF CONTENTS

1. FEATURE STORY: "Self Conscious? Paranoid. Whose Watching you? " by Bart Baggett

2. BRAND NEW: It's finally here! The Handwriting Membership site is now launched!
3. CONTACT US: We'd love to hear from you!

4. STUDENT TESTIMONIALS: "Everyone NEEDS this knowledge. I'll never date or hire anyone ever again without analyzing the handwriting." Scroll down for more video testimonials!

---
FREQUENTLY ASKED QUESTIONS (FAQ):
http://myhandwriting.com/FAQ
Q: What can be told from a person's signature?


A: The signature represents what a person wants the world to see or what he wants to be, an image that may or may not be the same as the inner self. Because a signature contains only a few letters, it does not provide enough information for the analyst to make a complete and accurate evaluation.

Q: My signature is illegible. What does that mean?


A: It means people have a hard time reading your name. Seriously, illegible handwriting can mean a number of things. In general, an illegible signature reveals a desire to be seen but not known, keeping things private.

You may want to keep your true identity hidden. It could also mean you are in a hurry. People who continually sign their name all day long often do so in a hurry and, therefore, don't care what their signature looks like. Illegible handwriting in combination with other specific traits may indicate dishonesty, but there are a lot of variables.

Q: Why is my signature different than how I write everything else?


A: Because the signature is a badge to the world. It is a representation of what a person wants the world to see about himself. A signature that is different from the rest of his writing says he does not want to reveal everything about himself. There may be some aspect of his personality that he wants to hide, so he creates a new "person" by creating a signature with a different look.
Handwriting University's Membership
Website Now Launched!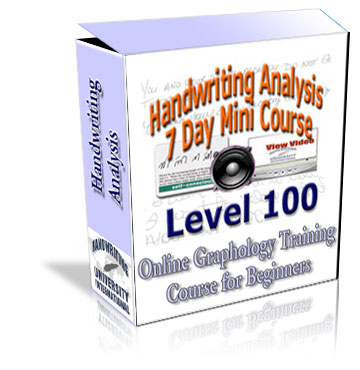 Sign Up Now for our
7 Part Mini Course in Basic Handwriting Analysis.

This membership site contains 7 text, video and audio lessons to quickly learn handwriting analysis via the Internet. Just Released...
Now, 3 Day Free Trial Access Available .
---
Student Review
"This seminar has changed my life. It is the most efficient and effective method for personal development and for improving the quality of one's relationships."

—Kim Radcliffe, Attorney and Mediator, Orlando, FL

Student Review
"This course has been amazing! With a background in clinical research, my first reaction was to search for the evidence that this science is accurate. Upon investigation, biologically, handwriting analysis' validity makes perfect sense. Ultimately, my own personal improvement was all the proof I needed to change from skeptic to believer!"

— Deborah Mraz, Clinical Research Specialist, Wilmington, NC


Alisa Cole, Changed her handwriting.
---