Get into the Minds of Criminals
Featured Story
"Get into the Minds of Criminals" by Bart Baggett
This audio segment is from the Criminal Minds portion of our LIVE seminar. We hope you will have a chance to join us for one of our conferences but if you can't make it in person, here are the files currently available online for your listening pleasure, education, and entertainment. The average listening time will be about eight minutes. Some longer, some shorter.
The files will not always go in sequence and not always be from the same seminar or tape series. If you want full, comprehensive training, you will want to join the program as an official student as part of the leve 301 Certification Home Study Course. We ship and train worldwide. And, get certified in person at the Fall Annual Conference.
You can now learn handwriting analysis from the comfort of your own computer via your own speakers or headphones.
This is a free bonus for being subscribers to our Weekly Strokes newsletter. Watch your e-mail for future editions or call our
office and join officially today .
Now, listen in on the Criminal Minds Edition audio recording and refer to the handwriting sample as Bart and Curt Baggett talk about what you can see in handwriting that might reveal a criminal mind.
- Bart Baggett, President
Handwriting University.com
Press Play to Listen Now
Click here to see the handwriting sample the audio is referring to.
This part of the lecture discusses a prisoner and the strangest, most evil handwriting I've ever seen.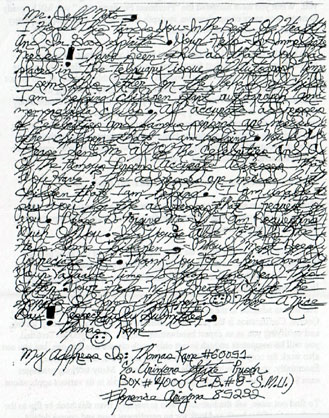 This audio requires FLASH audio player.
What's New
Student Comments
Student Reviews
Dear Bart and Curtis,
Thank you. There is no way to fully express my gratitude for this seminar. I think it came at just the right time. I am very excited that I will be able to help people. I have finally found my niche.
Anyone considering taking this course, should stop considering it and DO IT! I'm thrilled in knowing I go home with so much more than ever before.
-Kim Brown, Private Investigator
Hyde Park, Utah, USA